Hey folks this is how it works I shared what I have and now someone has shared one they had!! Here is is
Feel free to save it, and if you want to contribute a picture that isn't here email it to me at d_angus323@yahoo.com to share with everyone. Be sure and check out the public photo album at
http://s784.photobucket.com/albums/yy130/gwtwsocial/
now updated with this new picture!!
Scene 3 - Dressing for the BBQ


The Costumes
Scarlett - BBQ dress
Scene 3 - Feel free to save them, and if you want to contribute a picture that isn't here email it to me at d_angus323@yahoo.com. Be sure and check out the public photo album at
http://s784.photobucket.com/albums/yy130/gwtwsocial/
This is technically a deleted scene, or rather a reworked scene. The opening scene originally was going to use the BBQ dress, but was changed to the White Ruffled dress. Here are the surviving stills.
(
More Here...
Collapse
)
Tags:
Scene 2 - Prayers


The Costumes
Scarlett - White ruffles
Ellen - Velvet trimmed
Suellen - Yellow
Carreen - Blue Plaid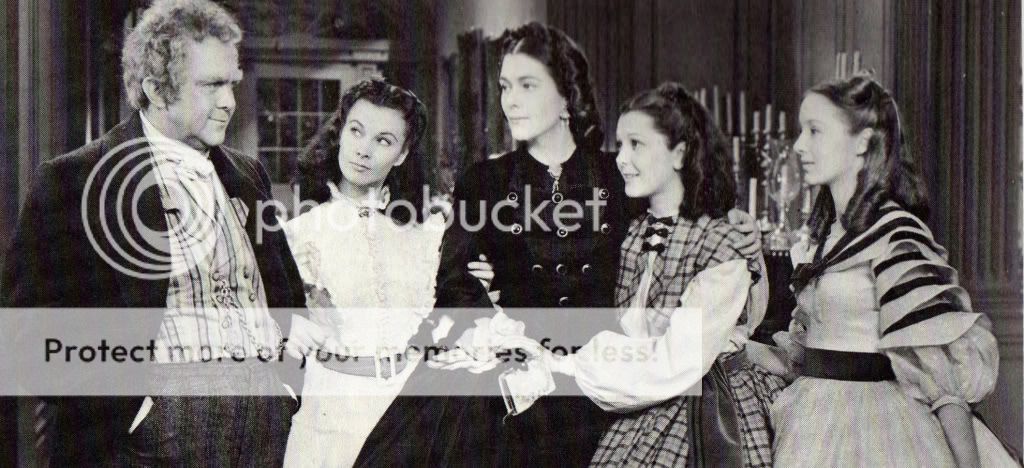 (
More Here...
Collapse
)
Tags:
Nov. 9th, 2009 at 10:40 PM
Hi everyone, I want to introduce everyone to this journal and explain a bit about it.
First off I want to classify this journal as a sort of sudo-community. Rather than start a community and have dozens of the same picture show up, or have it fizzle out slowly I want to share my collection of Gone With The Wind images with others and in turn have others share theirs. I am sure that there are others out there who are sitting on their little treasures and finds just like I have over the years, why not share them?? So I have started this journal as a way to accomplish this without the hassle of a website and money that I don't care to spend.
Well how is this going to work you might be wondering, well I will be posting pictures from the movie scene by scene with tags as well as posting them to a photobucket account that is open to everyone to view. This journal will be a way to highlight new images. If you see that there is a picture that I have that you don't you can save it. If there is a picture you have that you see I don't you can email them to me at d_angus323@yahoo.com
There are just a few rules that I will be following. First off I will not be posting any screencaptures from the movie. They are readily available all over the web and they take up alot of space and the time involved with editing them. Also I will not be posting pictures of fan images or costumes or collectibles. This journal/site will be for photographs only!!
That I think just about explains it all.
Email pictures you would like to contribute to d_angus323@yahoo.com
The public album is
http://s784.photobucket.com/albums/yy130/gwtwsocial/
Well lets start sharing folks!!!!!!
Tags:
gwtwsocial
Latest Month
January 2010
S
M
T
W
T
F
S
1
2
3
4
5
6
7
8
9
10
11
12
13
14
15
16
17
18
19
20
21
22
23
24
25
26
27
28
29
30
31